Top 10 Job Shop Software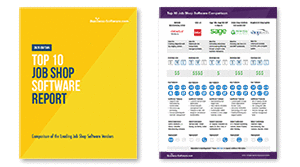 For job shops, the accuracy required in molding, cutting, assembling and finishing products requires fine attention to the intricate tasks performed on machinery. Job shop software works to enhance time and quality advantages by addressing unique small jobs or specific small runs of a particular machined part.
The best job shop platform for your business will depend on the type of shop you operate, your business size and whether you require a complete ERP solution. To fully understand your software options, use our guide to the Top 10 Job Shop Software Vendors.
Inside, we reveal:
The must-have features to consider when purchasing a job shop solution
The top 10 job shop vendors
Pricing comparisons, deployment options and highlights of each system
How the core features of leading platforms stack up

Start your search for the best job shop software for your company by registering below to download this FREE report.