Top 10 Lead Management Software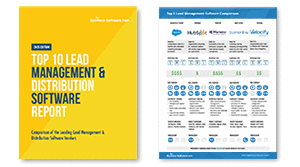 Prospective buyer leads can amount to a large percentage of online business revenue, provided that businesses properly manage and utilize the information gathered from each lead. Lead management tools help maximize sales opportunities by automatically directing leads to the correct party and tracking each lead throughout the sales cycle.
Determining the type of lead management tool – whether a lead distribution system or comprehensive lead lifecycle management platform – that will best suit your business can be difficult. Use our guide to the Top 10 Lead Management Software providers to help you evaluate your options.
Inside, you'll find:
Industry highlights and details on trending lead management features
The top five lead distribution and top five lead management vendors compared
Side-by-side reviews of each product's core features
Information on pricing, marketing capabilities and other noteworthy functions
Find the perfect platform to help your business increase revenue and streamline its lead pipeline. Register for this FREE downloadable report to get started.