Top 10 Learning Management System Software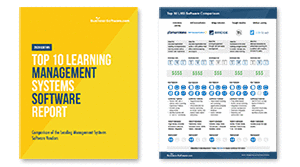 Learning management software (LMS) provides businesses with the ability to centralize employee training while automating personnel administration, employing self-service learning tools and personalizing user content based on set roles and permissions. Larger companies will find learning management systems especially useful to establish a more dynamic and automated training process for new hires.
Start your search for the perfect learning management system by perusing our comprehensive report on the Top 10 Learning Management System Software. We break down core features, make note of additional functions and share pricing and deployment information. We also provide details on:
What to look for in a learning management solution
How the 10 most popular LMS tools stack up
Which solutions offer must-have LMS features
Register below to download this FREE report and find out which LMS solution is the right fit for your business needs.