Top 10 Marketing Automation Software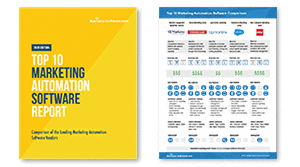 The key to branding success in the modern business world is building a dynamic marketing strategy that engages users across a variety of channels. Marketing automation software provides companies with an intelligent, centralized system to better manage campaigns and other crucial marketing techniques.
With an abundance of marketing software platforms on market, trying to narrow down your options can be daunting. Our report on the Top 10 Marketing Automation Software vendors will help you determine your business needs and best software options.
The report contains:
An overview of the marketing software industry, including trending and must-have features
Side-by-side comparisons of the leading 10 marketing automation vendors
An easily readable chart format that highlights each platform's strengths
Details on product pricing and deployment options
Using marketing automation software, your marketing team can better coordinate marketing activities and eliminate tedious manual tasks. Download this FREE report now to jump-start your search.