Top 10 Material Requirements Planning Software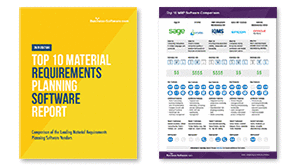 For many manufacturers, meticulous inventory control is the crux of production processes. Material requirements planning software (MRP) strives to optimize stock levels through three objectives: to ensure materials are available for production, to maintain the lowest possible material levels and to plan manufacturing activities, delivery schedules and purchasing activities.
Determining the best MRP solution for your business depends on many factors specific to your company, such as industry and production processes. Start your search for the perfect fit with this handy guide to the Top 10 Material Requirements Planning Software vendors.
Inside, you'll discover:
The must-have features of MRP software — and which top products have them
The top 10 material requirements planning solutions
Pricing, deployment details and notable functions for each system
Register below to download this FREE report now and bring your business one step closer to streamlined manufacturing processes.