Top 10 Medical Billing Software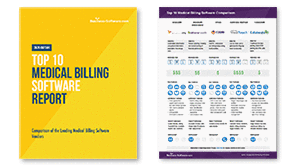 Regardless of size, speciality or location, medical establishments must be able to successfully navigate the complex rules, regulations and government policies surrounding medical insurance claims. Medical billing software helps medical environments enforce compliance and get paid faster.
To find the right medical billing software for your company, you should verify which functions you want – and locate the platforms that include those must-have features. Use our Top 10 Medical Billing Software report to learn about:
The most important features to look for in today's medical billing solutions
The top vendors in the medical billing software industry
Core capabilities, pricing and deployment options of the leading solutions
Find the medical billing software that will help you reduce the time and energy spent managing billing processes. Download this FREE report of the leading medical billing platforms to get started.