Top 10 Mobile CRM Software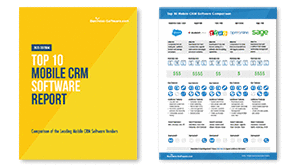 Software with mobile functionality continues to gain traction in the industry, facilitated by the rise of trends such as BYOD. Customer management is one such segment where users can find value in a more fluid platform accessible via smartphones and tablets.
Mobile CRM software allows remote employees – such as sales representatives, service staff and support teams – to perform typical CRM tasks such as access customer data and interact with clients while on the go. Use our handy Top 10 Mobile CRM Software Vendor Report to learn more about your mobile CRM options, including:
Why a mobile CRM platform might be the right solution for your business
How the top mobile CRM solutions compare
Which leading vendors offer the right set of features for your needs
What price points, key functions and deployment options are available to you
Download this FREE report below to compare mobile CRM solutions from leading vendors and help guide your software purchase.