Top 10 Mobile Device Management Software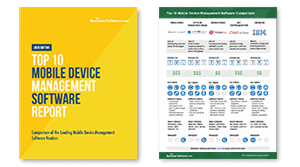 As technological innovations continue to revolutionize business operations, corporate mobile devices have become the norm in today's largely virtual workplace. Mobile device management software, or MDM, is designed to concurrently address your company's operational and security needs. MDM secures and manages mobile-friendly enterprise applications, providing your business with greater visibility and control over employee device usage.
Our list of the Top 10 Mobile Device Management Software solutions will help you make an informed decision about the software you trust to manage your company's devices.
Inside, you'll find:
Details on the state of the industry and trending features to be on the lookout for
The top 10 mobile device management platform providers to consider
Side-by-side product comparisons to help you easily review the availability of key functions
Product price points, available deployment methods and other notable platform tools
Use our guide to help find the right MDM solution for your company. Download this FREE report today to get started.