Top 10 On-Premise CRM Software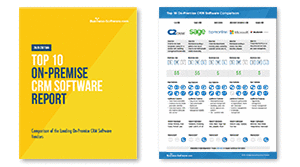 On-premise CRM, also known as licensed, on-site or in-house CRM, is a customer relationship management application that is housed at a client's location and managed by its own employees. Like all CRM platforms, on-premise CRM options enable a business to more effectively oversee its client interactions and better organize outreach to potential customers.
On-premise CRM is often a more cost-effective choice for enterprise-level companies who need deeper functionality with fully customizable faculties. Download our Top 10 On-Premise CRM Software report to find out if an on-premise solution is right for you.
Inside the report, you'll find:
Details on the value of selecting on-premise CRM and the must-have features to look for
Side-by-side comparisons of leading on-premise CRM products
How the leading vendors compare in feature set and pricing
A side-by-side overview of individual product information and noteworthy features
Download our free Top 10 On-Premise CRM Software report and simplify your purchasing decision. Register now to access this FREE report.