Top 10 Payroll Software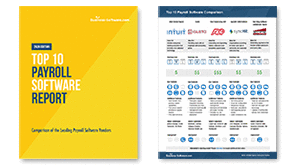 Knowing when your existing payroll method or system becomes outdated can be difficult to discern, particularly if your rudimentary needs are being fulfilled. Yet the latest advancements in payroll enable you to optimize your financial processes by streamlining all employee transactions, performing accurate tax calculations and generating regulatory reports.
Ensure you select the right payroll solution by first familiarizing yourself with our guide to the Top 10 Payroll Software Vendor Report.
Inside, we cover:
The latest trends and features in the payroll software industry
The leading payroll vendors
Which core functions are available in each of the top solutions
Side-by-side breakdowns of product pricing, deployment methods and other important details
Use our FREE asset before making a purchasing decision. Register below to access our guide now.