Top 10 Point-of-Sale Software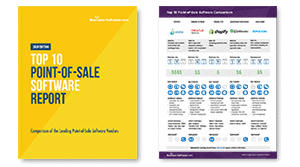 For companies in the retail industry, streamlining sales and payments is fundamental to a successful business. A point-of-sale (POS) system will improve and simplify customer-business transactions, ensuring salespeople are able to smoothly assist clients.
To help you locate the perfect POS system for your business, we've compiled the Top 10 Point-of-Sale Software vendors in this handy report. Inside, you'll find:
An introduction to the industry and overview of trending functions
A detailed breakdown of each of the top 10 POS systems
An easily readable chart format to compare products side by side
Product pricing information, deployment options and select customers
The right point-of-sale software will help you improve performance statistics, expedite inventory assessments and streamline all of your operations into one. Register below to access this FREE report and begin your search for the perfect POS solution.