Top 10 Practice Management Software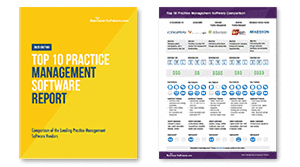 Medical professionals require an effective system to review, store and secure digital and paper files regarding patient demographics, medical appointments and other details critical to practice operations. A practice management software platform is essential to efficiently and effectively handle all of these aspects.
Use our Top 10 Practice Management Software Report to gain a complete picture of the practice management software industry and to compare your software options. In this report we cover:
Must-have features of today's practice management platforms
How the leading practice management solutions stack up
Core capabilities, pricing and deployment models of the top solutions
Finding the right solution is critical to improving operational efficiency within your practice. Start your search the smart way by downloading this FREE report.