Top 10 Product Lifecycle Management Software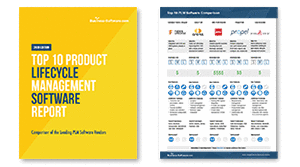 Product lifecycle management comprises the processes and practices associated with managing a product throughout its lifecycle, from its conception through design and manufacturing stages, to service and decommission. PLM software utilizes PLM methodologies to provide a central repository for all data and facilitate a streamlined approach to product development.
Before selecting PLM, be sure to familiarize yourself with top vendors and determine the features of greatest importance to your business. Our Top 10 Product Lifecycle Management Software report can help you understand and evaluate your options.
The report includes:
An overview of the PLM industry
Information on the leading features to consider before selecting a PLM system
Side-by-side comparisons of the top 10 PLM vendors
Details on product pricing, deployment options and important functions

Don't leave your product development practices unoptimized with tedious manual processes. Start your search for PLM software by downloading this FREE report below.