Top 10 Professional Services Automation Software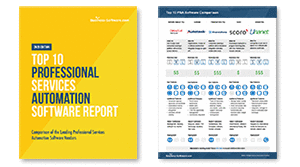 Professional services automation (PSA) is designed for the lawyer, auditor or consultant in a professional service firm who seeks to better manage projects and resources for clients. With PSA software, you can streamline projects, billing and time management without relying on manual entry, ensuring your vital business processes always run smoothly.
With so many PSA platforms in the market, finding the right fit for your business can be tricky. Use our Top 10 Professional Services Automation Software Vendor Report to discover the leading PSA software and make an informed purchasing decision. The report includes:
An overview of the PSA industry
Information covering the top 10 professional services automation vendors on market
Product-specific pricing, deployment and feature information
Descriptions of must-have features like project accounting and resource management
Begin evaluating your PSA options by perusing this exclusive asset from Business-Software.com. Register below to download the report cost-free and access our side-by-side product comparisons.