Top 10 Recruiting Software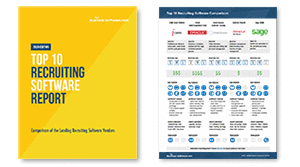 Today's HR managers juggle dozens – if not hundreds – of applicant resumes, contact details and communications with potential employees. Recruiting software revolutionizes the way companies interact with job candidates, allowing managers to streamline the hiring process and sift through applicants more intelligently and efficiently.
Make sure you thoroughly vet all of your software options to ensure you find the best option for your business. Download our guide to the Top 10 Recruiting Software Solutions to get started.
Inside, we share:
Trends in the recruiting software industry, plus leading features
Our shortlist of the top 10 recruiting platforms
Side-by-side comparisons of each vendor's core product functions
Details on product price points, deployment options and other notable capabilities
Download this FREE report today and discover which of the leading Recruiting solutions is right for you.