Top 10 Sales Force Automation Software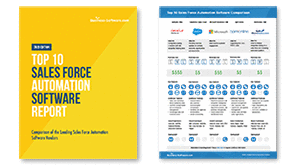 Modern business sales pipelines comprise many complex, isolated processes likely to increase departmental inefficiencies. A sales force automation (SFA) solution rectifies these shortcomings by refining and better aligning the corporate sales process from end to end.
Sales force automation integrates with your CRM to streamline the sales cycle and replace manual tasks with tightly aligned procedures. To learn more about SFA, download our Top 10 Sales Force Automation Software report. Inside, you'll find:
An overview of SFA applications and the top features to look for when making an SFA purchase
Side-by-side comparisons of the top SFA vendors
Information on each solution's pricing, deployment methods and additional features
With SFA, your company can accelerate sales cycles, close more business, boost revenues and increase market share. Download this FREE guide now to jump-start your search for the perfect SFA software.