Top 10 Service Desk Software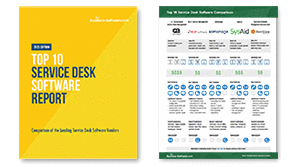 Companies leveraging a large number of IT assets can find it difficult to efficiently troubleshoot corporate devices and respond to employee fix-it requests. A service desk is a cost-effective way to ensure employees receive technical assistance in a timely manner by directing tickets to the best service agent and capturing real-time performance metrics.
Because service desk platforms act like a help desk for internal support, selecting the best choice for your business can be tricky. Learn more about the service desk industry with our handy guide to the Top 10 Service Desk Software Vendors.
Inside, we uncover:
The difference between internal and external service platforms, as well as trends in the industry
The top 10 service desk software vendors to consider
How the leading platforms stack up in a side-by-side comparison chart
Product price points, deployment methods and other noteworthy features
Download this FREE report today and discover which of the leading service desk software solution is right for you.