Top 10 Small Business CRM Software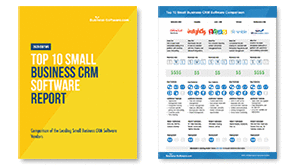 Smaller companies have the same customer management needs as their larger counterparts, but typically can't afford the top CRM solutions on market. Small business CRM offers the same valuable features found in enterprise-edition CRM, in a scaled-down version that better fits the less extensive needs of companies in the small-to-midsize markets.
Small business CRM is often offered in cloud-based, subscription models that make the software more affordable for smaller companies with tighter budgets. Check out our CRM selections for SMBs and growing businesses by downloading this report on the Top 10 Small Business CRM Software vendors. Inside you'll find:
An overview of the features and functionality found in CRM designed for small business
Side-by-side product comparisons that include core features and pricing
Selected highlights of individual product tools and modules
Learn more about the value of small business CRM software and discover which vendor is right for your company. Register below to access your FREE report download.