Top 10 Social CRM Software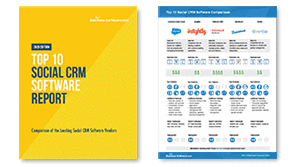 The rise of social media has created an entirely new outlet for businesses to reach out to and interact with customers — but managing social activities on top of standard methods can be challenging. Social CRM systems have emerged as a way to consolidate customer-related processes across both traditional venues and social media outlets.
Social CRM enables businesses to better monitor their brand, respond to user inquiries and address potential product issues using one streamlined interface. To learn more about social CRM solutions, check out our Top 10 Social CRM Software report. In it, you'll find:
Information about key features of a social CRM platform and the values of implementing social CRM
Side-by-side comparisons of leading social CRM products
Highlights of each solution, including pricing and noteworthy functions
Solutions that incorporate social CRM tools are becoming the future of customer management, providing deeper insight into customer sentiments and helping to boost brand loyalty. Register below to download this FREE report and start your search for a social CRM platform.