Top 10 Talent Management Software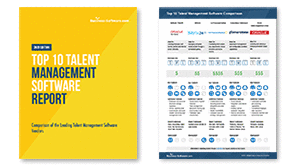 In the modern business world, retention rates among many of today's companies are at record lows for a myriad of reasons, including incompatible skill sets and needs. With talent management, businesses can better attract top candidates, develop the skills of new hires, assimilate employees into the corporate culture and ensure optimum job performance.
The right talent management solution will provide a comprehensive suite of tools to help businesses take a more strategic approach to selecting and retaining their employees. Use our Top 10 Talent Management Software Report to review the leading vendors and find your perfect solution.
Inside, you'll find:
An overview of talent management software and trending platform functions
Side-by-side comparisons of the top 10 talent management vendors
Details on what core features each platform includes
Product pricing information, deployment options and other noteworthy features
Jump-start your search for a talent management platform by registering below to download this FREE report.