Top 10 Time and Billing Software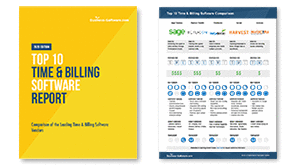 For businesses with many hourly and contractual employees, effective oversight of time worked is essential for properly managing billing and payroll. Time and billing software accurately tracks and manages employee hours in two ways: through manual time entry and clickable timers. Like an electronic version of a traditional paper timesheet, time and billing software saves resources and increases productivity by enhancing time accountability.
The best time and billing platform for your needs will depend on whether you're an employer or contract-based worker, and which time management tools are of most value to you. Browse all of the leading options by downloading our guide to the Top 10 Time and Billing Software Vendors.
Inside, we reveal:
Industry insights and trending features of time and billing tools
The top 10 vendors to consider when selecting a time and billing solution
Side-by-side comparisons of each product's core functions – showcased in an easy-to-read chart format
Pricing details, available deployment methods and mobile accessibility
Learn more about time and billing software by registering to download this FREE report now.