Top 10 Transportation and Logistics Software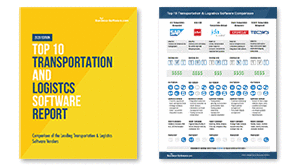 Shipping businesses must transport products and materials to the right place in the shortest amount of time at the lowest cost, while complying with regulations and trade requirements. Companies are utilizing transportation and logistics management software to effectively manage delivery operations and maintain a more streamlined shipping system.
A company's transportation and logistics needs are unique to its business model and industry. Use our Top 10 Transportation and Logistics Software Report to help identify your must-have features and other platform requirements.
Inside the report, you'll discover:
Trending features found in transportation and logistics software
An overview of each of the top 10 transportation and logistics vendors
Side-by-side comparisons of each product listed
Details on product pricing, deployment methods and select customers
Ensure you select the right transportation and logistics solution for your business by beginning your research with a copy of our FREE downloadable report.