Top 10 Travel and Expense Management Software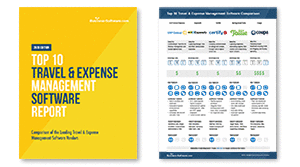 Managing corporate expenses can be a tedious and complicated process for a business of any size, and in particular for organizations who incur a large quantity of employee reimbursement requests. A travel and expense management platform remedies the issues commonly associated with manually overseeing expenses, enabling administrators to more efficiently organize, approve and fulfill disbursement requests.
Let us help you find the right platform to oversee your company's travel expenses with our Top 10 Travel and Expense Management Software Report.
Our report reveals:
Trends in the expense management software industry, including of-the-moment features to look for
The top 10 travel and expense management vendors in the industry
How the leading expense management solutions compare in terms of core functions
Starting price details, select customers and noteworthy platform capabilities
Improve your corporate reimbursement processes with software that tracks and archives employee receipts and expenses. Register below to access this FREE report now.