Top 10 Virtual Call Center Software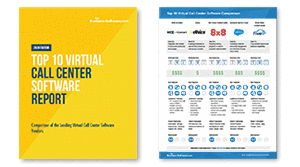 Traditional call center models are costly and often inefficient, which is why many companies are switching to virtual contact centers. Virtual contact centers can reduce overhead costs, gain access to a greater pool of talent, improve agent retention and offer a greater continuity of service.
If you seek more information on virtual call centers, download our free report to check out:
The top solutions available on market
The benefits of investing in a virtual call center software
Which platforms include must-have features like intelligent routing and a knowledge base
Deployment options, pricing and core functionality of the leading products
Download our free Top 10 Virtual Call Center Software report to find your perfect solution.