Top 10 Warehouse Management Software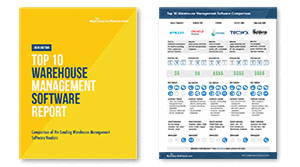 Optimized warehouse planning and management ensures companies avoid carrying excess stock and reap the benefits of smarter execution and coordination functions. A warehouse management software system provides a comprehensive set of tools to streamline the entire process of storing and moving goods.
To find a warehouse management solution that meets your budget and business requirements, use our guide to the Top 10 Warehouse Management Software vendors.
Inside, you'll find information on:
The warehouse management software industry and must-have platform features
The top 10 warehouse management solutions
How the leading warehouse management systems stack up
Pricing, available deployment methods and select clients
Ensure you select the right warehouse management solution for your business by beginning your research with a copy of our FREE downloadable report.