Top 10 Web Conferencing Software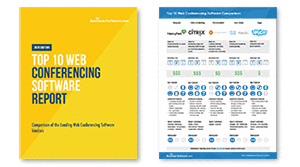 Whether your company is large or small, web conferencing software can help by improving and simplifying internal as well as external communications. Organizations with dispersed offices will find a web conferencing tool particularly useful to connect employees, conduct meetings and hold conferences.
To determine if a web conferencing solution is right for your business and learn about leading vendors, check out our Top 10 Web Conferencing Software report. Inside, you'll find:
An overview of web conferencing software solutions and industry trends
Side-by-side comparisons of the key features found in leading web conferencing software solutions
Insight into vendor pricing, noteworthy functions and select customers
Download this FREE report now to jump-start your search for a web conferencing tool and discover which vendor meets your business needs.