Top 10 Web Content Management Software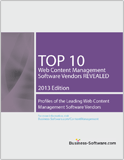 We've just made it a lot easier for you to find the best web content management software. Our Top 10 Web Content Management Software Vendor Report reveals:
The top 10 web content management software vendors you should consider.
Highlights of each vendor's strengths in web content management.
Vendor background and contact information to get you started.
How the right software can help to manage web content management issues without IT involvement.
Web content management software is a comprehensive solution that enables effective management of web content throughout its lifecycle, allowing websites to be updated in a timely and efficient manner. Web content management systems make it easy for companies to maintain consistent branding across all company-related websites by allowing users to easily create, manage, and edit all web content from a single source.
Please register below for immediate access to this report.