Top 10 Web Content Management Software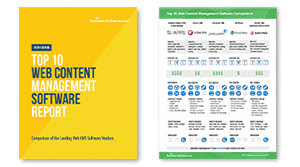 Web content management systems make it easy for companies to maintain consistent branding across all company-related websites by allowing users to easily create, manage and edit all web content from a single source. If you're looking for more information about the web CMS industry or leading web content management systems, you'll find that and more in our free report.
In our comparison report on the Top 10 Web Content Management Software, we offer details on:
The top software vendors you should consider for your content management needs
Specifics on product pricing, deployment models and must-have features
The value of capabilities such as ecommerce integration, mobile accessibility and SEO tools
Businesses of all sizes will benefit from more effectively managing their web content throughout its lifecycle. Register below to access this exclusive overview of top web content management systems from Business-Software.com.