Top 10 Workforce Management Software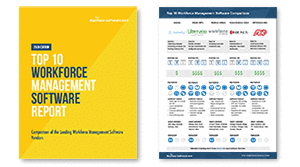 Today's businesses must build an optimized workforce that operates on the tightest budget possible, yet managers and owners often have neither the time nor resources to verify tasks are on-budget and completed at an acceptable rate. Workforce management (WFM) software supplies managerial staff with the tools to more accurately observe the progression and costs of the personnel pipeline.
To ensure you select the right WFM solution for your business, check out our handy guide to the Top 10 Workforce Management Software Vendor Report.
Inside, we reveal:
Industry trends and must-have features to look for in WFM
The top 10 workforce management vendors
Detailed comparisons that show the core features available in each platform, as well as other noteworthy product information
Product price points, deployment options and the like
Make oversight of your employees simpler and more effective with WFM software. Start your search today by downloading this FREE guide.