Top 15 Accounting Software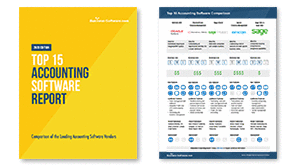 Accounting software is a foundational technology for many companies, and as a business grows, having a powerful, effective accounting solution becomes increasingly critical. Most accounting software packages offer the same basic features necessary for managing finances, though many also include industry-specific add-on modules for businesses with more complex financial oversight requirements.
An accounting system can make or break your business' operational success, which is why proper analysis of all contenders is imperative before investing in a platform. Use our free Top 15 Accounting Software report to find out more about:
How the core features of the leading platforms stack up
The latest software advancements, and how they'll benefit your accounting processes
Details on pricing, deployment options and notable functions
Download this FREE report today and discover which of the leading accounting software solution is right for you.