Top 15 Discrete Manufacturing Software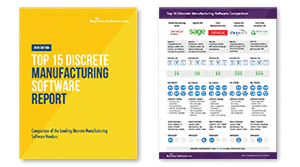 Discrete manufacturing software is a suite of comprehensive technology tools designed to improve the entire end-to-end process of designing and building a product. From engineering and planning through production and quality control, discrete manufacturing software packages offer all the tools a business needs to create the best possible product in the most efficient and cost-effective manner.
Before purchasing a discrete manufacturing solution, it's important to verify that your choice will meet your company's budget, size, industry and process needs. Use our Top 15 Discrete Manufacturing Software Report to help with the selection process. In it, you'll find:
Details on the top features and capabilities of a discrete manufacturing solution
Side-by-side comparisons of the leading systems
Information on what industries and business size these solutions cater to
Pricing, deployment and customer information
Ensure you choose the right discrete manufacturing solution by downloading our FREE report now.