Top 15 Process Manufacturing Software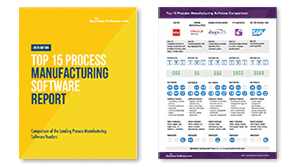 From engineering and planning through production and quality control, process manufacturers must effectively manage many moving parts to see their products to completion. Process manufacturing software is a suite of comprehensive technology tools designed to improve the entire end-to-end process of designing and building a product.
Due to the specialized operations of process manufacturers, selecting the right manufacturing solution is imperative to a company's success. Learn about the leading software available with this handy guide to the Top 15 Process Manufacturing Software vendors.
Inside, we cover:
The core features and capabilities that process manufacturers should look for
The top 15 process manufacturing software providers to consider
Standout functions of the most popular solutions
Pricing, deployment details and notable customers for each system
Register below to download this FREE report now and bring your business one step closer to streamlined manufacturing processes.