Top 15 Supply Chain Management Software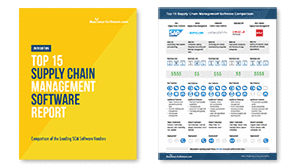 Supply chain operations are often the hallmark of a company's business model: a convoluted process makes for a disorganized business, while a lithe supply chain ascertains a more profitable and synchronized system. Supply chain management software helps businesses streamline and automate the sourcing, acquisition and storage of raw materials, as well as the warehousing and distribution of finished products.
With so many supply chain management solutions available, identifying your best options can be difficult. Our Top 15 Supply Chain Management Software Report can help your business understand the industry and determine its specific SCM needs.
Look inside the report for:
Insight into the SCM industry and trending features
Side-by-side comparisons of the top 10 supply chain management solutions
Details on product pricing, available deployment methods and noteworthy features
To begin your search for the right software to oversee your supply chain, download this FREE report now.