Top 20 ERP Software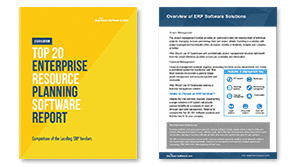 Enterprise Resource Planning (ERP) is one of the most comprehensive solutions for companies in need of back-end organization, with features tailored to businesses of all sizes and industries. An ERP system allows companies to centralize many key elements of their production line, building a more productive and cost-effective business model.
Because an ERP system is such a large software investment, it's imperative that you evaluate all of your ERP options to determine the best fit for your unique business needs. Our Top 20 ERP Software Vendor Report will help you start your search, with valuable information such as:
Detailed breakdowns of the most popular ERP products
Highlights of each system's core features and standout capabilities
What business size and industries each vendor caters to
Download our FREE report today and start your search for a new ERP software solution.