Top 40 CRM Software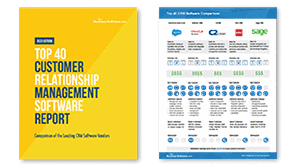 Customer Relationship Management (CRM) simplifies company-client relations by providing a centralized repository for collecting information on prospective customers and established clientele. Customer Relationship Management (CRM) solutions are used by small, midsize and large businesses alike to improve oversight of customer relationships.
To get the most out of your software solution, you want to be sure the CRM you select meets your specific business needs. Use our Top 40 CRM Software Vendor Report to understand the industry, peruse your options and narrow down your search. In our handy guide, you'll find:
A detailed look at the top 40 CRM vendors
Information on product pricing, deployment options and standout functionality
Side-by-side comparisons of key CRM features

CRM systems allow companies to enhance productivity, reduce costs and increase revenues, as well as boost customer acquisition, service, satisfaction and retention. Download our FREE Top 40 CRM Software report now to compare leading vendors and gain valuable insight into the industry.