Top 5 Advanced Analytics Software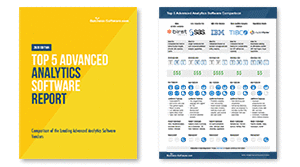 Today's businesses compile vast amounts of data — yet much of it is not assembled in a way that is intelligible or actionable without strenuous analysis. Advanced analytics platforms enable companies to more easily organize, mine and evaluate their data to produce valuable insights into business workflows.
If you operate a business that assesses complex data sets and requires capabilities beyond the standard business intelligence (BI) platform, be sure to check out this comparison report of the Top 5 Advanced Analytics Software solutions. In our report, you'll learn about:
The core functions of the leading solutions on market
The value of features that help you process and understand your data
Information on deployment options, pricing and select customers
If your business could prosper from using an advanced analytics tool, start your search for the perfect platform by downloading this FREE report.