Top 5 Inventory Management Software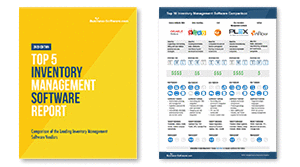 A competitive marketplace requires a system for tracking inventory levels, orders, sales and deliveries. This is particularly true for manufacturing businesses that need to create a work order, bill of materials and other production-related documents. Since the early 2000s, inventory management software progressed to the point where companies no longer needed to input data by hand. Inventory management software is valuable for businesses of all sizes that look to avoid product overstock and outages, organize inventory data and manage services.
To help simplify your search for the perfect platform, we've created this handy report with side-by-side comparisons of top solutions designed to meet your inventory management needs. Download our free Top 5 Inventory Management Software report to learn more about:
How an inventory management solution can help streamline your operation processes
The top inventory management platforms in the marketplace
Key details, core features and pricing comparisons
Download this FREE report today and discover the leading inventory management software solutions that's right for you.