Top 5 Knowledge Management Software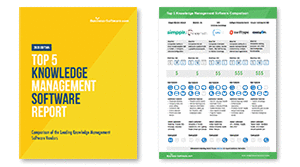 Whether you need to build an intranet for employees or a knowledge base for customers, implementing a knowledge management system will help your business focus on making information organized and accessible. Knowledge management software will prove of great value to a variety of industries and business sizes, ensuring all relevant files are properly stored and remain easily accessible.
To learn more about leading knowledge management solutions, download this free Top 5 Knowledge Management Software Vendor Comparison report. In it, you'll find valuable information on:
The must-have knowledge management features to look for, such as collaboration tools
Side-by-side comparison of the top systems in the industry
Overview of vendor strengths and unique features
Without knowledge management, companies will find it virtually impossible to effectively maintain and catalog important business files. Improve your business processes by investing in a knowledge management tool — download this FREE report today to start your search for the right solution.