Top 5 Sales Enablement Software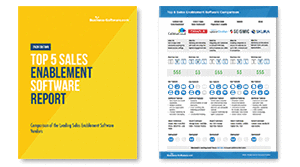 Your sales team functions best when equipped with the right tools to streamline the sales process. Sales enablement systems help improve the sales cycle and ensure consistent, prompt sales messaging throughout your entire organization.
Use our handy guide on the Top 5 Sales Enablement Software to help determine your platform needs and review your options. In this report, you'll find:
Information on must-have features for your sales enablement solution
Details on the leading software vendors, as well as an overview of each vendor's strengths
Product pricing, deployment options and lists of select customers
A sales enablement solution is ideal for any business or team that operates a complex sales funnel. Synchronize your sales activities and increase sales conversions with a sales enablement application. Download this FREE report now to start your search.