Top 5 Supply Chain Collaboration Software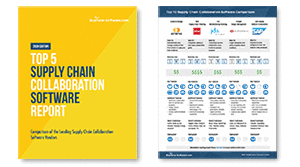 Supply chain pipelines operate best when business administrators and third-party suppliers can communicate in real time to address delays, shipment issues or other problems as they arise. Supply chain collaboration software fosters a synchronized supplier network that increases visibility of supply priorities, constraints and needs.
Supply chain collaboration can be purchased as a stand-alone module, or in coordination with a full supply chain management solution. To determine your company's needs, begin by reading this guide to the Top 5 Supply Chain Collaboration Software.
Inside, you'll find:
An overview of the importance of having a collaborative supply chain
Tips on which features to consider when shopping for supplier collaboration software
Side-by-side comparisons of the leading supply chain collaboration vendors
Details on pricing, deployment options and integrations
Ensure your supply chain is optimized to run smoothly by establishing an open line of communication with vendors, suppliers and customers. Download this FREE report to start your search for supply chain collaboration software.