Top 10 QA Testing Software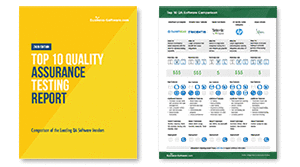 Even with the array of development tools currently on the market, creating software is a lengthy, labor-intensive process; bugs and defects are bound to arise at some point during development.
A QA testing solution will ensure your applications run smoothly and perform free of bugs. Deciding which product to invest in can be tricky, however, which is where our Top 10 QA Testing Software report comes in handy. Use it to:
Understand how QA testing software will improve application performance and reduce development cost
Review must-have QA testing features
Compare key functions of the leading vendors side by side
Learn about industry pricing and common deployment options
The right QA software solution will help your business streamline its application development cycle, more easily identify bugs and automate your test procedures.
Ready to review your QA software options? Register below to download our FREE report and access expert industry advice and product comparisons.