The Ultimate Guide to Self-Service Support for Fast-Growing Companies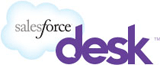 Register Now to Download this FREE Whitepaper from Salesforce Desk.com
It's official…consumer expectations of customer support has reached new heights that nobody believed possible. What's worse, is that fast-growing companies are feeling the brunt of this force as their rapidly-growing customer base has forced management teams to make massive adjustments in a short amount of time. But should that stop them from providing absolutely stellar customer service? Absolutely not.
One form of customer service on the rise is self-service support. In this "Ultimate Guide," we will be touching on the foundation of self-service support – primarily, what this level of support means to fast-growing companies as well as their customers and organization.
Walk away with the following insights:
A firm understanding of the various types of self-service support and their benefits
The agent productivity advantages and monetary value of investing in self-service support tools
Steps on getting started with knowledge base content and how to keep it fresh and relevant
Examples of awesomely designed support centers and what makes them effective
How to measure the success of a support center and ROI of self-service support
Enjoy this guide and walk away with a better knowledge for your self-service support efforts!