Navigating ERP: Buyer's Guide for Wholesale and Distribution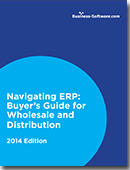 Navigating ERP: Buyer's Guide for Wholesale and Distribution
With software as complex and robust as ERP, businesses frequently choose industry-specific versions and modules to effectively manage the unique requirements of a particular industry. For wholesale and distribution businesses that seek superior supply chain management and have unique shipping concerns, a distribution-specific ERP solution can mean the difference between breaking even and scoring profits. We created this exclusive buyer's companion to help wholesale and distribution manufacturers find the perfect ERP solution. Use this guide to:
Learn more about the industry-specific features a distribution company needs
Determine which deployment model is best for your business
Compare top wholesale and distribution ERP software vendors

Register below for immediate access to this free report.