The WOW Guide to Providing Amazing Customer Service During the Holiday Rush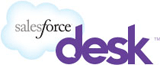 Register Now to Download this FREE Whitepaper from Salesforce Desk.com
The WOW Guide to Providing Amazing Customer Service During the Holiday Rush
At Desk.com, we're not just about providing a great customer service app – we're also about instilling a mindset in all fast-growing companies of how to provide amazing customer service. Each WOW Guide was written for the sole purpose to share best practices from some of our most notable customers as well as provide our own proven methods.
At Desk.com, we talked to some of the support managers taking on the holidays this year to understand how they empowered their teams to provide amazing customer service. Through a series of interviews with them and our WOW team members, we gathered six effective strategies that all holiday heroes should use to prepare for the peak seasons.
Please register below for immediate access to this report.