About Business Performance Management Software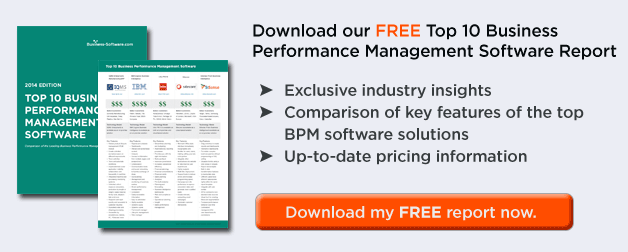 Business performance management consists of a set of management and analytic processes, supported by technology, that enable businesses to define strategic goals and then measure and manage performance against those goals. Core business performance management processes include financial and operational planning, consolidation and reporting, business modeling, analysis, and monitoring key performance indicators linked to strategy.
Why should you use business performance management? It's a simple fact that an accurate and appropriate picture of business performance is critical in attaining both the short- and long-term goals of an enterprise. The possession of relevant data about customers, competitors, internal operations, and the marketplace gives enterprises the ability to make the best decisions to ensure their present and future success.
What is Business Performance Management Software?
Data Collection
One of the greatest challenges in performance management is the appropriate storage and organization of an enterprise's data. To this end, business performance management software incorporates support for data warehousing to collect information from across the enterprise and store it in a central repository. The central concept of data warehousing, rather than being simply a passive repository for all the data generated by an enterprise, is storing data in such a way that it can be easily accessed for the purposes of querying and analysis.
Generating Information
For data to become useful to an enterprise, it's essential that tools and processes be put in place to allow for its appropriate and timely analysis. Business performance management software provides the means to generate reports and analysis on all forms of business data. For business data analysis to become a useful tool, however, it's equally essential that an enterprise understand its goals and objectives and that they know the direction in which they want the enterprise to progress.
Key Performance Indicators
To enable this understanding, it's important that an organization defines a number of key performance indicators (KPIs). KPIs offer a tool by which an enterprise can construct a set of measurable objectives to track the progress of an enterprise. The idea of business performance management software is to provide the means by which an enterprise can generate an analysis of data related to these indicators.
These analyses can be presented in any format valuable to decision makers, whether they are in the form of simple spreadsheets or more advanced information visualizations.
Response to Data Analysis
The primary objective of business performance management software, following the gathering and organizing of relevant data and its analysis, is to provide decision makers with the decision support systems necessary to form strategies that will drive the enterprise towards its objectives. Analysis created by business performance management software creates better feedback loops. By providing timely analysis of business information they allow management to identify problems and take corrective action before they become too large.
In addition to providing the support necessary to analyze current performance and correct problems, business performance management software also has the capacity to forecast future performance. Based on the analysis of past information, the software can answer a range of "what-if" queries to aid management in creating strategy for the future.
Key Benefits for Your Company
One of the key drivers in the rapid adoption of business performance management is its ability to work with other systems, applications, and data sources. There's no need to replace your existing IT systems because business performance management uses standards-based integration mechanisms to move information where it's needed as part of a process. For example, this could be importing data from an ERP or CRM system in order to validate information, or exporting to a data warehouse based on the results of a process activity or an automatic e-mail notification.
Does My Company Need Business Performance Management Software?
In today's complex corporations, data-driven decisions are needed. Executives need a comprehensive view into every aspect of their business and often in different perspectives. If a company is running on gut-feeling rather than accurate data, it might miss an important opportunity due to missing the right data to make a more informed decision.
Key Features of Business Performance Management Systems
Integration and Financial Accuracy
It's important to find a single application that will provide your organization with one central repository for financial and non-financial data enterprise-wide. This single application and information repository should result in enterprise-wide financial integrity, elimination of redundancy, consistent application of business rules, and a firm knowledge that business decisions are being made from a basis of financial truth. Your organization's planning, budgeting, forecasting, consolidation, financial and management reporting, modeling, and tax and analysis requirements are supported with a single application.
Fast and Accurate Reporting
Fast and accurate reporting will give you and your executives more time to analyze data. A more thoughtful analysis of the bottom line allows you to monitor results against set objectives and develop more meaningful, long-term strategic plans that are actionable and trackable. It also enables you to peer into the depths of your complex organization and gain an insightful view of its financial reality.
What's more, the SEC is demanding that corporations have this insight readily available, making it critical for your organization's financial health. Your business performance management software should provide a single repository of accurate, enterprise-wide information.
Scalability
Your business performance management software should be highly scalable and should consistently provide best-in-class performance and scalability in benchmark tests. Your application should also be able to support thousands of geographically dispersed concurrent users with no degradation in performance.
Business performance management software should perform over disparate technologies, reside on one central server and database, and consolidate reports according to consistent business rules. It should be fully scalable, operating on industry-standard platforms, and offer users high-speed and dynamic Windows and Web access to the central server and database. You should be able to roll the application out across your enterprise with minimal or no hardware upgrades.
What to Look for When Choosing Business Performance Management Software
Single Application
When reviewing performance management solutions, it's key to find one that delivers a single application that provides one central repository for financial and non-financial data. The solution should be easy to manage and provide a single point of maintenance, regardless of the number of users or the global geographic span of the user community.
Depth of Functionality
The ideal performance management solution should provide superior functionality with outstanding performance and scalability. It should be able to perform complex business models unique to your organization. You should have the ability to roll the application out to users across your enterprise and involve them in strategic finance processes.
Compatibility with Existing Practices
Determine whether this application can adapt to proven business processes or if its implementation will require the wholesale change of business practices.
Does the application deliver information to the desktop and minimize end user response time? Does the application provide maximum availability and accessibility to all network users? Does the application import data from disparate technologies and software and consolidate information according to consistent business rules? These are some of the questions you need to keep in mind when evaluating your next step in choosing a business performance management solution for your organization. When choosing business performance management software, it's important to look for a vendor that specializes in business performance management and that can offer a complete platform capable of meeting the enterprise's full range of needs.
Business performance management should be viewed as a holistic activity, rather than simply a financial one. After implementing business performance management in finance processes, organizations should look to operational business performance management, leveraging this discipline across different functions. For example, one of the most promising areas for business performance management is sales. Sales performance management can help reduce the expenses of managing an incentive plan, while also growing profits, retaining top-performing salespeople, and tying sales performance to corporate objectives.
It's important to find business performance management software that will enable you to effectively gather, consolidate, and access financially information across your entire organization. Look for solutions that license their application by function, not by number of users or hardware platform. When there is no restriction on number of users, it will enable you to more easily provide all of your users with the same depth of functionality and information access.