QuickBooks vs Wave Comparison: Which Is Better for Your Business?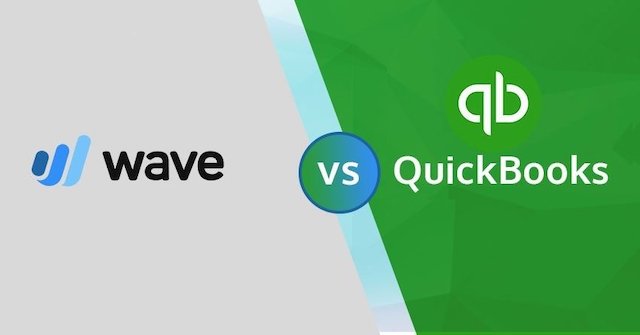 When you're a freelancer or you run your own business, you'll soon find that one of the key components to being successful is managing your cash flow. There are many accounting and invoicing tools on the market to organize and automate your financial tasks.
QuickBooks has become widely known for its ease of use, scalability, and adaptability. It's used by millions, is easy to set up, and fairly cost prohibitive compared to some of the bigger players in this space. But it's not free, and that's where Wave comes in. Wave is a free accounting solution that offers many of the same features QuickBooks does, but in a simpler version.
So how do these solutions compare? What are the key differences between QuickBooks and Wave, and which is better for your business?
QuickBooks vs Wave: At a Glance
QuickBooks is simply the best-known small business accounting solution on the market, offering a robust suite of bookkeeping functionality for anyone just getting started to businesses looking to scale quickly. It features in intuitive design, excellent reporting functionality, and plans for up to 25 users.
If you're a freelancer, a new business owner, if you have a tight budget or don't need a comprehensive accounting tool, Wave might be the way to go. Wave is particularly strong in the areas of income and sales tax management. As opposed to QuickBooks, it's designed for only one user.
QuickBooks vs Wave: Pricing Comparison
If cost is more important to you than features, Wave is the clear winner. However, while you can get started with the software for free, Wave does charge for payments.
QuickBooks pricing:
Simple Start: $25 per month for 1 user, 2 accounting firms
Essentials: $50 per month for 3 users, 2 accounting firms
Plus: $80 per month for 5 users, 2 accounting firms
Advanced: $180 per month for 25 users, 3 accounting firms
QuickBooks Live (add-on):
Low volume: $200 per month for <$25,000 in monthly expenses Medium volume: $400 per month for <$150,000 in monthly expenses High volume: $600 per month for <$150,000 in monthly expenses Payroll (add-on): Payroll Core: $45 plus $4 per employee per month Payroll Premium: $75 plus $8 per employee per month Payroll Elite: $125 plus $10 per employee per month Wave pricing:
Accounting, invoicing, and receipt scanning: $0
Payments: $2.9% plus $0.30 per transaction for most cards, 3.4% plus 30 cents per transaction for American Express
ACH payments: 1% per transaction
Bank payments: $1 per transaction
Payroll: $35
Payroll self-service: $20
Wave offers just one plan with the same features for businesses of all sizes, with upgraded modules for payroll.
QuickBooks vs Wave: Feature Comparison
QuickBooks is best suited for small to midsize businesses looking for a highly user-friendly accounting software. Wave is a good choice if you are a single user looking for basic accounting functionality that you can pay for on the go. How to pick which software is right for you will depend on what features you need.
| | | |
| --- | --- | --- |
| Accounting Feature | QuickBooks | Wave |
| Users | 1-25 | 1 |
| Invoicing | Yes | Yes |
| Integrations | Yes | Yes |
| Sales Tax | Yes | Yes |
| Reporting | Yes | Limited |
| Purchase Orders | Yes | Yes |
| Payroll | Add on | Add on |
| Inventory | Yes | No |
| Sales Orders | Yes | Yes |
| 1099 Handling | Yes | Yes |
Now let's explore some of the key features of an accounting solution to see how QuickBooks and Wave compare, and where each software shines.
Income and Expenses
QuickBooks allows you to connect your bank accounts, credit cards, PayPal, and more and then run reports on your expenses. With the mobile app you can take pictures of receipts and match them with your transactions. This way, you are on top of your cash flow, making it easier to handle your taxes.
Wave also has a built-in integration with PayPal and various banks, but live bank feeds are only available for US customers. A mobile app is available to scan and match receipts. A reporting dashboard is available to provide a quick, basic overview of your cash flow, profit and loss, balance sheets, and more.
Integrations
QuickBooks has 650+ business app integrations, and two integrations that are built-in: Payroll (to manage payroll, tax filing, health benefits, workers' compensation, and other HR functionality), and Time (time tracking).
Wave only has built-in and supported integrations with Google Sheets and PayPal. You can sync it to other apps with a third-party integration which may not work as smoothly as QuickBooks built-in functionality, though as a freelancer or small business owner you may not need these additional apps.
Neither QuickBooks nor Wave offers industry-specific tools such as an ERP solution would.
Payroll and Payments
Both Wave and QuickBooks offer payroll and payment processing as an add-on feature. The major difference is that QuickBooks requires a monthly base rate whereas Wave charged a transaction fee. So QuickBooks is generally cheaper for businesses that have a lot of transactions each month, while freelancers or business owners who only make occassional use of this will find Wave's pay-as-you-go model better.
QuickBooks offers automated tax filing on all plans, but the Elite plan also has tax penalty protection.
When to Choose QuickBooks
While Wave offers a lot of features that make it a strong competitor, especially considering its low cost, it doesn't extend much beyond the very basics of your accounting processes. QuickBooks is simply the most comprehensive and most widely used accounting tool on the market for small to midsized businesses.
QuickBooks offers advanced reporting, inventory management, and more. However, these come at a cost that's much higher than what Wave charges. And many freelancers and small businesses won't need those features at that higher price point.
QuickBooks scales up as your business grows. Its integrations with for instance QuickBooks Point of Sale and other Intuit products allows you to loop in your entire business. So if you're planning to get bigger, you'll soon outgrow Wave.
And lastly, considering QuickBooks' popularity, your accountant will most likely be used to it, so it's easy to grant them access to the system for further ease of use.
When to Choose Wave
Wave's big win is that it's free. While QuickBooks' cheapest plan starts at $25 per month, if all you need is basic accounting, a free software is hard to beat. You can get instant access to all features after signing up. You only start paying once you start triggering transactions.
As such, Wave is ideal for freelancers, solopreneurs, consultants, and small business owners. Its functionality is straightforward but comprehensive enough for new or intentionally small business. So if you want a budget-friendly accounting and invoicing solution, Wave is a solid free alternative to QuickBooks.
Unlike other free software solutions, Wave is well-designed, with an intuitive user experience and clean navigation. QuickBooks does more, but may be too much, or require too much of a learning curve, if you're just starting out or simply don't need many features.