QuickBooks vs Sage 50cloud Comparison: Which Is Better for Your Business?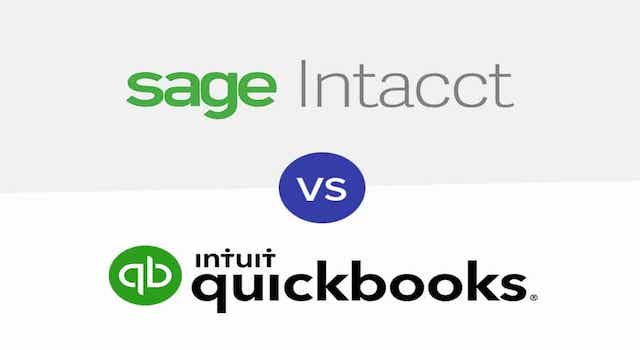 As one of the first small business accounting solutions on the market, QuickBooks has become widely known for its ease of use, scalability, and adaptability. Setup is quick and easy so you can get started in minutes, and then grow as your business and bookkeeping processes grow.
That said, Sage isn't far behind in this market, with over 6 million users today. Sage can manage your overall business, no matter the size of your company, and its product is priced according to your needs. With a broader focus than QuickBooks, Sage allows you to manage virtually any area of your business, and is a great choice for companies that want to move past basic bookkeeping. Our focus here, however, will be on Sage 50cloud, which is Sage's closest competitor to QuickBooks.
How do these solutions compare? What are the key differences between QuickBooks and Sage 50cloud, and which is better for your business?
QuickBooks vs Sage 50cloud: At a Glance
QuickBooks and Sage 50cloud (formerly Peachtree) manage your financial records and reports, making them accessible and digestible. You can also focus on payroll and other financial areas of your business such as sales, expenses and purchases. So if you're a small to midsized business or even a solopreneur looking to run your finances more easily and efficiently, these tools are worth considering.
Both offer subscription-based pricing depending on your needs. Both solutions also have large ecosystems of third-party integrations for banking, expenses, and more.
The key difference? Sage also offers functionality for HR and inventory and stock management, whereas QuickBooks really sticks to accounting and finance. We'll get into the details later.
QuickBooks vs Sage 50cloud: Pricing Comparison
In terms of pricing, both solutions are subscription-based.
QuickBooks pricing:
Simple Start: $25 per month for 1 user, 2 accounting firms
Essentials: $50 per month for 3 users, 2 accounting firms
Plus: $80 per month for 5 users, 2 accounting firms
Advanced: $180 per month for 25 users, 3 accounting firms
QuickBooks Live (add-on):
Low volume: $200 per month for <$25,000 in monthly expenses Medium volume: $400 per month for <$150,000 in monthly expenses High volume: $600 per month for <$150,000 in monthly expenses Payroll (add-on): Payroll Core: $45 plus $4 per employee per month Payroll Premium: $75 plus $8 per employee per month Payroll Elite: $125 plus $10 per employee per month Sage 50cloud pricing:
Sage 50cloud offers three different plans, billed monthly:
Pro Accounting: $56.08 per month for one user
Premium Accounting: $87.58 per month for one user up to $201.58 per month for five users
Quantum Accounting: $145.17 per month for one user up to $371.08 per month for ten users
Custom pricing is available if you need more users.
QuickBooks vs Sage 50cloud: Feature Comparison
QuickBooks is best suited for small to midsize businesses looking for basic but highly user-friendly accounting software. Sage 50cloud is a good choice if you have more complex accounting needs that may include other areas of your business as well. How to pick which software is right for you will depend on what features you need.
| | | |
| --- | --- | --- |
| Accounting Feature | QuickBooks | Sage 50cloud |
| Users | 1-25 | Custom |
| Invoicing | Yes | Yes |
| Estimates | Yes | Yes |
| Sales Tax | Yes | Limited |
| Inventory | Yes | Yes |
| Purchase Orders | Yes | Yes |
| Payroll | Yes | Yes |
| Multiple Currencies | Yes | No |
| Sales Orders | Yes | Yes |
| 1099 Handling | Yes | Yes |
Now let's explore some of the key features of an accounting solution to see how QuickBooks and Sage 50cloud compare, and where each software shines.
Sharing with Accountants
While both QuickBooks and Sage 50cloud allow you to share your finances with your accountant, QuickBooks really shines in this area. You can simply send your accountant a link to log in. Because QuickBooks holds the number one spot for small business accounting solutions, chances are your accountant is familiar with it.
Sage 50cloud users are able to customize passwords expirations, and creating and assigning roles with specific rights in order to access the software. And while Sage is well-known, it's not as widely used as QuickBooks.
Integrations
QuickBooks has 650+ business app integrations, and two integrations that are built-in: Payroll (to manage payroll, tax filing, health benefits, workers' compensation, and other HR functionality), and Time (time tracking).
Sage 50cloud has fewer integrations; however, you can upgrade to Sage200 or Sage300 to run your entire business, including finance, sales, and accounting management. These also come with payroll and more sophisticated inventory and product management tools.
Accounts Payable and Receivable
Sage 50cloud offers a powerful AP module that allows you to create vendors, record expenses, convert purchase orders into bills, set up recurring expenses, and much more. QuickBooks offers similar features, though it has an easier interface that may be especially appealing to non-accountants.
On the AR side of the business, Sage 50cloud allows you to set up recurring invoices, issue sales receipts, view customer accounts, issue credit memos, and more. Same with the AP features however, Sage 50cloud can be difficult for non-accountants. QuickBooks' interface is easy to use even for non-accountants. One big difference too is that in QuickBooks you can create customized invoices, which you can't do in Sage 50cloud.
When to Choose QuickBooks
QuickBooks remains a prime choice for SMBs looking for a user-friendly bookkeeping solution that can grow along with your business. It's highly functional and does not overwhelm you with features and functionality.
Because of QuickBooks' popularity, it's easy to loop in our accountant, who will most likely be familiar with the software. QuickBooks is also known for its scalability. Getting started is quick and easy, and the software will grow as your company, along with your number of users, grows.
So in short, QuickBooks is a cost-efficient, user-friendly, widely known accounting solution that works well for basic accounting but cannot be expanded into an all-in-one solution like Sage 50cloud, which you can upgrade to Sage200 and beyond.
When to Choose Sage 50cloud
Sage 50cloud is a popular accounting program that gives users more options than QuickBooks when it comes to personalization and job estimates, also looping in project management and collaboration between users.
As it's part of the overall suite of Sage products, Sage 50cloud can scale beyond what QuickBooks offers. So if you're looking for an end-to-end business solution without having to rely on third-party integrations for things like CRM, then Sage is the way to go.
The downside is that it's complex, especially for non-accountants. The interface is not as user-friendly, and once you start upgrading past ten users, the software can become quite expensive.