QuickBooks vs Sage Intacct Comparison: Which Is Better for Your Business?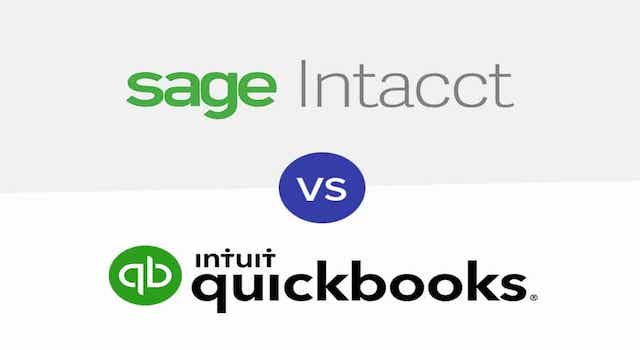 Both QuickBooks and Sage Intacct are cloud-based accounting software solutions with a long history. They both offer a wide range of features as well as hundreds of integrations to manage your end-to-end bookkeeping. While QuickBooks is the most widely used software package for freelancers and small to midsized businesses, Sage Intacct offers a CRM tool as well as other prepackaged modules to loop in other parts of your business.
Which of these solutions is right for you will depend on your financial management needs, budget, and company size. So how do these solutions compare? What are the key differences between QuickBooks and Sage Intacct, and which is better for your business?
QuickBooks vs Sage Intacct: At a Glance
Having been around in some shape or form since the early 1980s, QuickBooks is the most popular SMB accounting software package on the market today. Its intuitive design, robust reporting functionality, user-friendly set up, and fairly low price point make it an excellent entry-level software that can quickly scale up to accommodate growth and complexity.
While Sage Intacct also competes in the entry-level market, it truly shines for companies that have more customized needs. In fact, it's the only AICPA-endorsed software on the market today, offering a wide variety of integrations and personalized dashboards and reporting. Also, it's GAAP-compliant (QuickBooks is not) so it can easily help you follow regulatory requirements for a smoother auditing process.
QuickBooks vs Sage Intacct: Pricing Comparison
Unlike most cloud-based solutions that work on a subscription basis, Sage Intacct only offers customized quotes. There is no standard Sage Intacct cost, so you will need to contact the sales team to find out how much it would cost your business to run this software.
QuickBooks limits the maximum number of users whereas Sage Intacct doesn't.
QuickBooks pricing:
Simple Start: $25 per month for 1 user, 2 accounting firms
Essentials: $50 per month for 3 users, 2 accounting firms
Plus: $80 per month for 5 users, 2 accounting firms
Advanced: $180 per month for 25 users, 3 accounting firms
QuickBooks Live (add-on):
Low volume: $200 per month for $25,000 in monthly expenses
Medium volume: $400 per month for $150,000 in monthly expenses
High volume: $600 per month for $150,000 in monthly expenses
Payroll (add-on):
Payroll Core: $45 plus $4 per employee per month
Payroll Premium: $75 plus $8 per employee per month
Payroll Elite: $125 plus $10 per employee per month
Sage Intacct pricing:
Sage Intacct tends to be pricier than QuickBooks, because it offers more specialized accounting features and potentially unlimited users. Pricing is tailored to each customer's needs and the complexity of their installation process. Different user licenses are available based on your role (project manager, employee, etc), allowing you to pay for your user's specific functionality. A free 30-day trial is available.
QuickBooks vs Sage Intacct: Feature Comparison
QuickBooks is best suited for small to midsize businesses looking for a highly user-friendly accounting software. Sage Intacct is a good choice for midsize businesses that need a customized financial management process. How to pick which software is right for you will depend on what features you need.
| | | |
| --- | --- | --- |
| Accounting Feature | QuickBooks | Sage Intacct |
| Users | 1-25 | Unlimited |
| Desktop Available | Yes | No |
| Integrations | 650+ | 200+ |
| Sales Tax | Yes | Yes |
| Reporting | Yes | Yes |
| Purchase Orders | Yes | Yes |
| Payroll | Add on | Add on |
| Inventory | Yes | Yes |
| Sales Orders | Yes | Yes |
| 1099 Handling | Yes | Yes |
Now let's explore some of the key features of an accounting solution to see how QuickBooks and Sage Intacct compare, and where each software excels.
If a mobile app is a deciding factor, then choosing which software is right for your business is easy: QuickBooks offers a mobile app, while Sage Intacct doesn't.
QuikBooks's mobile app (available on Android and iOS devices) allows you to scan receipts, invoice customers, and accept payments. You can also track mileage and add the expense to invoices. Dashboard data is available to keep a close watch on your finances while on the road.
Currently, there is no mobile app available for Sage Intacct. However, you can access the software through a web browser on any device.
QuickBooks has 650+ business app integrations, and two integrations that are built-in: Payroll (to manage payroll, tax filing, health benefits, workers' compensation, and other HR functionality), and Time (time tracking).
Sage Intacct only offers about 200 business app integrations, though you can connect any proprietary application through a prebuilt connection available on the Sage Intacct Marketplace.
Both QuickBooks and Sage Intacct offer various ways of receiving support. They key differences are that Sage Intacct charges for phone support and does not offer a live chat option.
Sage Intacct's Help Center offers a knowledge database on how to use the software. A user community is also available to ask and answer questions 24/7. Premium support plans are available at four levels: Essentials, Bronze, Silver, and Gold.
QuickBooks offers a searchable knowledge base for common issues and troubleshooting that includes videos, webinars, and paid courses. A community forum is available to receive feedback from other users. Since QuickBooks is the most widely used SMB accounting package on the market, its user community is particularly strong. Phone support is available, though rather than calling QuickBooks yourself you have to submit a request for them to call you. Email support and live chat are also available.
When to Choose QuickBooks
Due to its long history and popularity, QuickBooks could be considered the best overall accounting software for small to midsized businesses. Consider its robust reporting functionality, intuitive design, and 650+ integrations. Payroll and time tracking modules are available for those businesses who don't want to rely on third-party apps.
If you're a freelancer or a new business looking to scale, QuickBooks will grow with you, both in terms of customized functionality and pricing. Starting as low as $25 per month, QuickBooks can accommodate up to 25 users. And by looping in other Intuit products such as Point of Sale, you can manage your end-to-end financial processes.
A mobile app is available with many of the same features that the software has, including invoicing, expensing, and mileage tracking. So if you spend a lot of time on the road or in a decentralized business environment, QuickBooks is a winner.
Lastly, considering QuickBooks' popularity, your accountant will likely be familiar with it, so you can easily grant them access to your system for further ease of use.
When to Choose Sage Intacct
Sage Intacct's real strength over QuickBooks is that it can be customized to meet your needs. It offers six out-of-the-box modules that you can choose according to your requirements: financials, dashboards, reporting, billing, budgeting and planning are available, along with integrations with other platforms through the Sage Intacct Marketplace.
This makes the software more expensive than QuickBooks, but it can be priced according to your needs. And if you're looking to scale, Sage Intacct will ultimately provide more room for growth. This can be particularly appealing to business with multiple entities or international locations. The software handles multiple currencies and role-based customization to loop in the entire business, regardless of where you are in the world.
One downside is the lack of a mobile app; however, the software can be accessed via a browser from any device. So if you're looking for a more complete, complex accounting solution than what QuickBooks offers, Sage Intacct may be the right choice.