Oracle NetSuite vs Sage Intacct: Why NetSuite Is Better for Your Business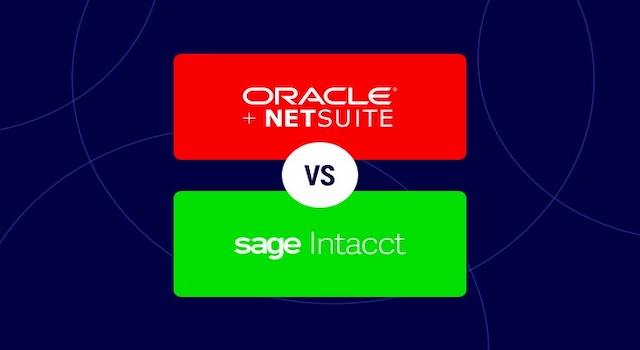 If your accounting processes are more complex than what a solution like QuickBooks or Xero can handle, you might consider a cloud-based ERP solution to manage your finances. With a cloud-based solution, you can access your data anytime, anywhere, in a secure, encrypted environment.
Both NetSuite and Sage Intacct offer robust functionality that exceeds an entry-level financial management solution. However, there are key differences that make NetSuite the better choice to run your business more efficiently.
NetSuite vs Sage Intacct: At a Glance
More than an accounting solution, NetSuite is an end-to-end ERP solution that includes functionality for managing your finances, supply chain, inventory, procurement, billing, and beyond. The software is particularly popular among companies with multiple locations that want to access mission-critical data in real-time from anywhere in the world.
NetSuite was acquired by Oracle in 2016, and has continued to expand the NetSuite offering. As a growing organization, you can add and customized modules according to your needs.
Sage Intacct, on the other hand, is a stand-alone cloud accounting system that can integrate with a variety of other solutions, including CRM and ERP systems, to manage your entire business processes. Businesses who want to focus on their core financials will find Sage Intacct's strong accounting functionality a plus. Allocations, consolidations, fixed assets, and revenue can all be handled in a best-in-class packages that is easy to learn and can also be customized to your specific needs.
NetSuite vs Sage Intacct: Features Comparison
As cloud-based solutions, both NetSuite and Sage Intacct do not require an internal or much IT infrastructure. Implementation is relatively quick and easy, and workers from any location can smoothly be looped into the process. For growing companies or those with multiple locations, this can be particularly appealing. Add to this how highly customizable both solutions are. As the market shifts and your accounting needs change, NetSuite and Sage Intacct can adapt to any challenge.
The key difference between the two solutions really starts with the scope of your financial management requirements. As an all-in ERP solution, NetSuite is designed to run your entire business, whereas Sage Intacct's focus is on accounting and financial management. As such, NetSuite's reach is much wider, extending to CRM, HCM, ecommerce, and much more. Sage Intacct can extend functionality as well, but this will require add-ons that come with the hassle of integrations, delays, updates, and more. It has been reported that extending the Sage Intaccts architecture significantly slows down the system, making it a troublesome software for companies that rely on real-time data insights.
Those companies who might think that NetSuite's wide range of applications only distracts from its accounting functionality will be happy to learn that NetSuite's solution matches Sage Intacct every step of the way.
| | | |
| --- | --- | --- |
| Accounting Feature | NetSuite | Sage Intacct |
| Customers | ~30k | ~10k |
| AP/AR | Yes | Yes |
| General Ledger | Yes | Yes |
| Inventory Management | Yes | Yes |
| Multi-Currency | Yes | Limited |
| Financial Planning | Yes | No |
| Warehouse | Yes | No |
| Multi-Company | Yes | Limited |
| Fixed Assets | Yes | Yes |
| Revenue Recognition | Yes | Yes |
While both solutions have been around since the late 1990s, NetSuite has almost triple the global footprint, with close to 30,000 customers in over 200 countries. Sage Intacct has around 10,000 customers, mostly in North America. NetSuite offers multi-language support globally, whereas Sage Intacct's support is very limited for non-English speakers.
NetSuite vs Sage Intacct: Pricing Comparison
While both solutions target mid-market organizations and up, NetSuite tends to have the larger price tag. NetSuite's up-front investment is higher than that of Sage Intacct because of the wide range of functionality you're getting. Maybe you don't need all those features right away, but as your company scales, the solution will pay for itself — and may ultimately be more cost-effective than Sage Intacct.
Sage Intacct comes at a lower price point than NetSuite because of its specialized focus on accounting. This make it a more reasonable entry-level solution for growing businesses. However, once your company's requirements scale past the basics, you will need to make additional investments. Also, by integrating with third-party apps you will be incurring additional licensing and maintenance fees. So over time, Sage Intacct may prove to be the more expensive solution.
Why NetSuite Is Better for Your Business
Knowing all this, why is NetSuite the better solution for your business?
NetSuite is built for growth
As an end-to-end ERP solution, NetSuite is designed for companies looking to grow and run their entire business on a single platform, without having to integrate with third-party apps. NetSuite currently supports 27 languages and 190 currencies, and continues to increase their offering.
Partner network
While both solutions are cloud-based, some implementation and training is still required. Because of its strong presence in the global market, NetSuite has a wide-ranging partner network to run their projects successfully. Prebuilt dashboards and key performance indicators are available for rapid implementation and customization based on role and industry. NetSuite reports that their customers are typically up and running in less than 100 days. Sage Intacct's partner network, on the other hand, is much smaller and mostly based in North America.
Unified database
NetSuite offers real-time data insights across the entire business through its unified data model. Sage Intacct, on the other hand, uses a legacy architecture of separate subledgers that make reporting a more hands-on effort, with all the pitfalls that implies.
Customer support
NetSuite offers live customer support 24 hours a day, seven days a week. Each customer is assigned a dedicated account manager for post-implementation care. Three levels of support are available – Basic, Premium, and Advanced – plus all clients can make use of the self-serve knowledge base and an active user community to answer questions on the go.
Sage Intacct offers just one level of support, with live agents available from 6am to 6pm Pacific Time. A user community and knowledge base are also available.
NetSuite vs Sage Intacct: Final Verdict
If you're a mid-market organization looking to grow, or if you're an enterprise with multi-location and multi-language requirements, NetSuite is better suited to run your business. With its all-in approach, you will be able to manage your end-to-end processes, looping in all areas of your business, from CRM to HCM and more. This will ultimately make the solution be more cost-effective, more stable, and less of a maintenance hassle than Sage Intacct. And with a global partner network, as well as 24/7 live agent support in various languages, NetSuite can be your trusted ERP solution every step of the way.