7 Essential Features of Mobile CRM Software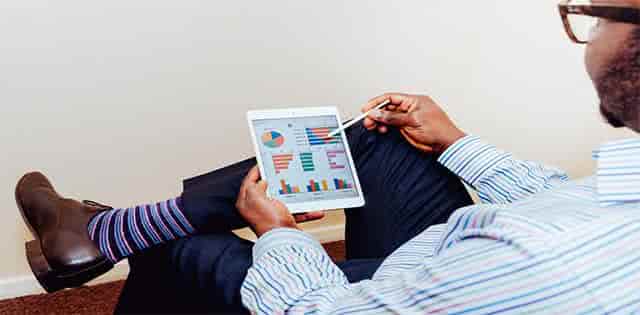 CRM software has remained essential to business, but with the technologically advanced world we live in, mobile customer relationship management platforms are becoming increasingly relevant. Desktop CRM software helps maintain a smooth relationship between a business and its customers, but without mobile accessibility, it limits customer interactions to the desktop and restricts employee usage.
On the other hand, mobile CRM software is developmental, and more often than not, is missing features that are essential to CRM software. Desktop versions are complete yet inaccessible, while mobile CRM platforms fall short when it comes to including all the necessary features.
With this dilemma in mind, let's discuss the most essential aspects of mobile CRM software to ensure you avoid missing crucial features when choosing a mobile-friendly business solution.

Key Features of Mobile CRM Software
1. Software as a Service

Software as a Service, also known as SaaS, is a beneficial aspect of mobile CRM software. Instead of buying software and downloading it onto a computer or device, SaaS allows you to basically rent software by using a cloud service. This way, anyone can access the software simply by having an internet connection. This opens the door for companies that have employees in the field, or employees who also work on the go.
Traditional on-premise software can have limits regarding how many computers can download the software, whereas SaaS software is stored in the cloud and can be used on many devices or computers. SaaS platforms also allow for no-delay data updates and real-time communication with team members. When a company chooses Saas, employees have the ability to work on customer relationship management wherever and whenever is convenient.
2. Mobile Contact Management

For CRM software, mobile contact management is extremely important. The ability to manage your contacts is essential to running an organized and efficient business. If your company has a lot of clients, it is necessary to have a systematic way to store all of their information. With a contact management feature in mobile CRM software, you can ensure that all of your clients' personal information is secure and well-organized.
A mobile contact management feature also allows a business to create individual customer profiles with social and professional aspects. You can even use a contact management system to record communication between employees and clients, which can give insight into overall company performance. However, some mobile contact management versions offer only a simplified version, which may restrict users from performing the same tasks available on a desktop. When buying software, make sure the mobile contact management feature offers everything that your business might need.
3. Mobile Task Management

Mobile task management is another critical aspect of mobile CRM platforms, because it provides the ability to create tasks or projects from any location. Field agents can use mobile CRM software to complete important tasks at their convenience. Managers can use this feature to organize tasks by priority level, ensuring that the most important tasks are completed first. With this technology, it is easy to see which tasks have already been completed and which tasks still have yet to be finished.
This function can also organize tasks and has the option to include only necessary people on the tasks, ensuring there is no confusion regarding who is responsible for completing a task and guaranteeing that all assigned tasks will be completed by the correct people. The software also has the ability to break large, complicated tasks into simplified to-dos. Employees can complete any of these tasks from their mobile devices.
4. Notes

A seemingly simple yet fundamental part of any CRM software is its notes function. The notes feature gives users the ability to jot down a couple of notes after a business meeting, interview, phone call, etc. This small aspect is extremely functional and helpful. You can also share your notes with other employees or attach your specific notes to a project or new client. Storing all of your information in one place will keep your business and ideas organized.
5. Offline Access

A crucial feature of mobile CRM is offline access. With offline access, employees can use their mobile CRM software not only when they are out and about, but when they do not have an internet connection or cell service. This means that when they are on an airplane, they can work on the tasks they need to complete, add contacts and jot down notes.
This feature is essential to field workers who do not always have a strong internet connection, yet still want to be able to complete their work at their convenience. The flexibility of offline access is a game changer in the mobile CRM software market, and it is important to choose a mobile CRM platform that incorporates this capability.
6. In-App Communications

A social aspect of mobile CRM is often overlooked, but is meaningful to clients. With in-app communication abilities, both employees and customers can contact each other and have conversations. Without leaving the app, user and provider can communicate directly through this channel.
With this capability, users can give instant feedback or ask questions, instead of having to leave the app to send an email or text message. Push notifications are also available to ensure that users are receiving the fastest assistance possible. This not only makes customers feel like their voices are being heard, but adds a social aspect to customer relationship management software.
7. Mobile Analytics

Analytics are helpful to employees to see what is working and what is not. It only makes sense to have analytics available for mobile use, so you can see the feedback data as fast as possible. This feature offers statistics and graphs to show how well certain aspects of your business are performing. Without this knowledge, it would be difficult to plan for the future and make advancements in your company. This data allows businesses to improve daily and be as successful as possible.

Keeping these essential features in mind, investing in mobile CRM software is a smart decision. This software can help your company stay organized, communicate with clients, interpret data, store contacts and personal information and much more — guiding your company toward success in in our mobile-dominated world.

Looking for more information on CRM trends? Check out the 6 CRM Software Trends To Watch Through 2016 and our free, unbiased report on the Top 10 Mobile CRM Software.
[Photo courtesy of Olu Eletu on StockSnap.io]